Hybrid mesh/SATCOM radio released by Somewear Labs
News
May 07, 2023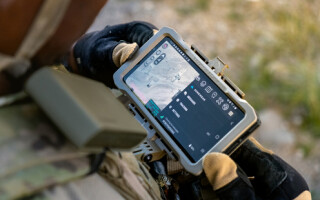 SOF WEEK 2023 – TAMPA, Fla. Engineers at Somewear Labs in San Francisco, California, this week launched a multi-network device called Node, enhances the ability for mission teams to communicate and coordinate during dynamic operations, providing increased reliability, security, and situational awareness.
Node enables teams of tactical operators to create their own secure, agile network that can be used for communication, location tracking, and other tactical applications across land, air, and sea. Somewear's platform, Grid, integrates with tactical systems like ATAK and Somewear's Node provides a low size, weight, and power (SWaP) solution for the last tactical mile of Joint All-Domain Command and Control (JADC2). The new capability enhances C2, force protection, situational awareness, combat search and rescue, and battlefield visualization.
Schedule a demo of Node during SOF Week, May 8-11th, and stop by Booth #123-O to learn more about the survivable and scalable communications platform. Contact [email protected].
The pocket-sized Node features automation to route data via the efficiency of mesh radio technology or the resilience of satellite connectivity. Group communications within range of Nodes are powered by Node's encrypted, low latency mesh network. In the event a team member falls outside of the range of Node's powerful mesh network, Node autonomously delivers inbound and outbound data via the built-in satellite link.
Building upon the network redundancy of Node is Somewear's introduction of SmartBackhaul – the latest version of Somewear's proprietary data routing software.
SmartBackhaul intelligently routes data across the mesh network to Nodes that have the best satellite or cellular connectivity to serve as the most optimal backhauls. The advent of Node with SmartBackhaul technology eliminates the need for mission teams to establish and stay in range of fixed infrastructure for a dedicated backhaul. Each team member carrying a lightweight Node can serve as a reliable and dynamic backhaul, allowing the agility for mission teams to establish uninterrupted connectivity regardless of location, including in indoor and subterranean environments.
"Node was a result of years of close collaboration with our customers," says James Kubik, CEO of Somewear Labs. "The success of our platform and features like SmartRouting across cellular and satellite demonstrated our customers desire for a unified experience across all of their networks. Node is a massive leap forward in unifying communications through one platform, Somewear Grid, and ensuring continuous situational awareness in any environment."
Node is available for preorder for teams of all sizes. For more information, visit www.somewearlabs.com/product/node, or contact the company directly at [email protected]