Smallsat development facility opened by Lockheed Martin for SDA satellites
News
August 07, 2023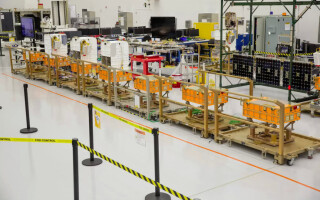 WATERTON, Colo. Lockheed Martin opened a facility that will house the company's Space Development Agency (SDA) Tranche 1 Transport Layer satellites; the facility is intended to streamline small satellite (smallsat) development, demonstrations and processing to enable high-rate delivery.
The 20,000-square-foot facility hosts dedicated testing capabilities, including thermal cycle and electromagnetic chambers, scaled to efficiently build and test satellites ranging in size from cubesats to smallsats. It will also feature six scalable parallel assembly lines and is configurable to host different classifications of missions at the same time and will handle all stages of smallsat development.
According to the company's announcement, Lockheed Martin is currently developing more than 50 satellites for the SDA's Transport Layer, which when deployed will provide military users with low-latency communication links through a resilient network of integrated capabilities from low-Earth orbit.