NASA highlighting work done by industry team for Artemis I moon and space mission
News
February 12, 2020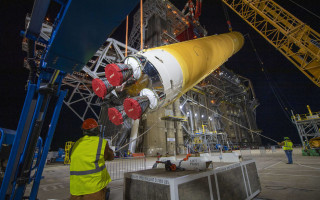 WASHINGTON. NASA and industry partners are readying to get into the final stretch before the Artemis I launch, a mission planned that NASA says is the path to landing the first U.S. woman and next U.S. man on the moon.
NASA and its partners around the country -- Aerojet Rocketdyne, Jacobs, Boeing, Northrop Grumman, and Lockheed Martin -- are collaborating in support of the Space Launch System (SLS), Orion and Exploration Ground System (EGS) programs, which the agency asserts will set the U.S. on a new journey to explore deep space. Representatives from the industry suppliers are set meet in Washington, D.C. this week to share the latest program progress with legislators and highlight the work that is done in their respective states.
Recent SLS milestones include production completion of the Artemis I core stage flight hardware for first flight, now at Stennis Space Center for its final major test; delivery of booster aft exit cones to Kennedy Space Center (KSC) and completion of booster design certification review and first five-segment booster flight set; completion of the RS-25 engine hot-fire series for the first four SLS flights and attaching the RS-25s to the first core stage for testing; and NASA testing of avionics systems at its Marshall Space Flight Center that will control launch and guidance systems for the rocket. Moreover, the complete Artemis I Orion spacecraft was shipped to NASA's Plum Brook Station (Sandusky, Ohio) in November 2019 for environmental testing to ensure that it can withstand the harsh environment of space on its journey around the Moon and back. Orion's full launch abort system was successfully tested in JUly 2019 during a flight test in Florida.
At KSC, the EGS team recently completed verification and validation of the modified mobile launcher and Launch Pad 39B systems; received the massive SLS Core Stage Pathfinder at KSC; and conducted a monthlong series of exercises in the Vehicle Assembly Building, during which they practiced handling and lifting of the full-scale mockup hardware.
Launch-readiness milestones expected to be completed at KSC during 2020 include delivery of SLS booster segments; delivery of core and integrated RS-25 engines for mating with the boosters; testing and integration of the Orion Artemis I crew and service module; and operation of the Underway Recovery Test-8 in the Pacific Ocean to validate the recovery procedures and operational timelines during a full mission rehearsal of Orion capsule recovery after splashdown.
Artemis I, the first integrated flight test of the SLS rocket and Orion spacecraft, aims to send Orion into a lunar distant retrograde orbit, which is a wide orbit around the moon that is farther from Earth than any human-rated spacecraft has ever traveled. The uncrewed mission (set for 2021) will last approximately three weeks and will validate the design and safety of Orion and SLS for human exploration missions into deeper space.