StorePak: High Capacity Removable VPX Storage Module
Eletter Product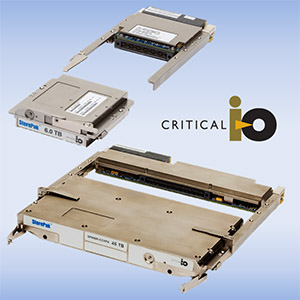 Critical I/O's StorePak products offer high performance, high capacity, rugged solid state storage solutions in an extremely small size, weight, and power (SWaP) footprint. StorePak is ideal for rugged embedded applications that must reliably move and/or store large amounts of data.
High Capacity 3U / 6U VPX module and XMC as well - up to 46 TB
Rugged – Designed for harsh environments
Removable – Quick and easy removal of the solid-state storage module
High performance – up to 6 GBytes/sec sustained read/write
Storage software suite for DAS, NAS, recording, encryption, hot swap, health monitoring
StorePak is a single slot removable SSD (solid state drive) module designed to be used either stand-alone as Direct Attached Storage device, or in conjunction with Critical I/O's StoreEngine storage manager where recording and network attached storage capability is provided. The StorePak™ removable SSD module is specifically designed for applications where removal of onboard storage must be accomplished quickly. StorePak provides high performance (up to 6 GBytes/sec) and high capacity (up to 46 TBytes) rugged solid-state storage all within a small size, weight, and power (SWaP) footprint. Critical I/O's storage products are enabling system designers to capture and leverage the large amounts of data generated in high bandwidth systems such as Radar Systems, Mission Computing, EW Systems, ISR Processing, Surveillance Systems, and Sensor Processing.
StorePak Product Listing: http://criticalio.com/products/storepak-vpx/
Featured Companies