Atlas PCI/104-Express SBC with Intel N2800 CPU and PCI-104 & PCIe/104 I/O Expansion
Eletter Product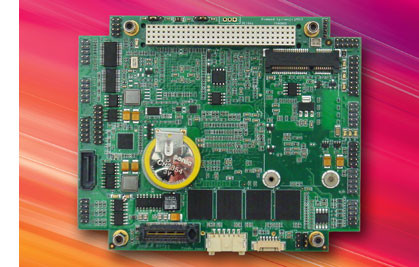 Atlas is a rugged PCI/104-Express SBC based on Intel's dual core Cedar Trail N2800 CPU. Offering a speed of 1.86 GHz and dual core hyperthreading technology that enables applications to run in parallel, Atlas provides exceptionally efficient processing. The Atlas SBC combines excellent Intel Atom CPU performance, a wealth of on-board I/O and a conduction cooled thermal solution at a competitive price.
Available on-board I/O includes USB 2.0, RS-232/422/485, Gigabit Ethernet, SATA and digital I/O. Atlas supports I/O expansion with PCI-104, PCIe/104, and PCI/104-Express I/O modules by using a new miniature, cost-effective, high-speed expansion connector that supports most PCIe/104 I/O modules.
Atlas accommodates on-board expansion I/O modules in the PCIe MiniCard form factor featuring WiFi, Ethernet, analog I/O, digital I/O, and CAN. These modules provide compact expandability without increasing the total height of the system. For on-board solid state storage, mSATA disk modules up to 64 GB are available in SLC and MLC technologies and with wide temperature operation.
Atlas' rugged design makes it exceptionally reliable in harsh applications including industrial, on-vehicle and military environments. From an operating temperature of -40°C to +75°C and on-board DDR3 SDRAM to an integrated conduction cooling heat spreader and a high tolerance for shock and vibration, Atlas thrives in harsh environments. The bottom-mounted heat spreader provides a convenient mounting platform for the board, reduces case interior temperatures for improved system reliability, and simplifies the installation of I/O modules and cables by eliminating interference from heat sinks.
View the datasheet here.
Diamond Systems
555 Ellis Street
Mountain View, CA 94043
[email protected]
Featured Companies