Global drone market to increase nearly 10-fold over next 10 years: report
News
March 16, 2023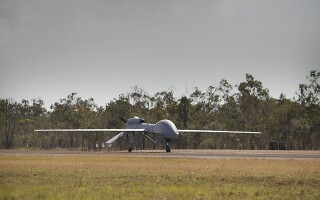 PALM BEACH, Florida. The global drone market will go from being worth $30 billion in 2022 to $279 billion by 2032, a new report predicts.
Companies like Draganfly Inc., Raytheon Technologies, Boeing, NVIDIA, and Elbit Systems are expected to be some of the biggest beneficiaries of a market that is expected to reach a 25% compound annual growth rate over the next decade, states the report from Financial News Media.
Use of drones for combat purposes is one of the biggest drivers of the market, the report adds.
"Use of autonomous drones as weapons of devastation is fast changing the industry. Unmanned Aerial Combat Vehicles (UACVs) are another name for some of these drones (UACV)," the report states. "In affluent countries, UACVs with precision guided bombs and missiles are on the rise. From 2022 to 2032, the industry is forecast to expand 9.3x. U.S. held the largest market share in terms of volume in 2020, accounting for approximately 37%, and is expected to grow significantly over the next ten years as a result of favorable government initiatives, advancements in drone technology, and growing demand from businesses across various industries."