Addressing the challenges of military training simulation
Story
October 16, 2023
For decades, the military has used simulations to train pilots, ground troops, armor, artillery, and more. Since the early 2000s, virtual simulation has become an integral part of modern training, revolutionizing the way militaries prepare for real-world scenarios. Back then, the phrase "Serious Games" was coined, reflecting virtual simulation's technology roots in commercial video games.
Nowadays, in major Western and allied nations, virtual simulation plays a crucial role in everyday military training. The need for this technology is more current than ever as the style of warfare you need to train for is evolving ever faster; compare the way militaries trained for conflicts in Afghanistan compared to the allied response to the invasion of Ukraine. Training methods must adapt quickly and cost-effectively to ensure the effectiveness, readiness and safety of military personnel. Great simulation software and platforms empower military commanders to easily pivot and address their troops' immediate training requirements.
The many other reasons major military forces use virtual simulation include that it:
Facilitates practice and training in a safe, secure, immersive environment.
Offers greater efficiency with military personnel able to participate in training more frequently, and thus progress more quickly in a shorter time. (Often called "sets and reps.")
Guides military personnel to understand human behavior, gain insight into their own behavior, and improve teamwork.
Teaches military personnel to handle high-stress situations and improves mission-critical skills including effective communication and essential combat techniques.
Offers instruction and practice in hostile environments like sniper and suicide bomber attacks.
Guides soldiers to understand human behavior and "patterns of life." Enables insight into their own behavior and improves teamwork; teams often learn the most from a post-training review.
Offers instruction and practice in hostile environments, which are difficult to replicate with simple infrastructure.
Simulation platforms are highly cost-effective relative to live training. Of course, there will always be a need for an irreducible level of live training, but synthetics can enable entities to host a large-scale military exercise virtually at a fraction of the cost, more securely, and with a reduced environmental impact. (One joint military exercise between the U.S. and South Korea, for example, would have cost $14 million.1)
Training using simulation enables military forces to get the training they need while operational assets remain on the frontline. Simulation systems' "virtual" track miles are unlimited, maintenance-free, and have a very low environmental impact. (Figure 1.)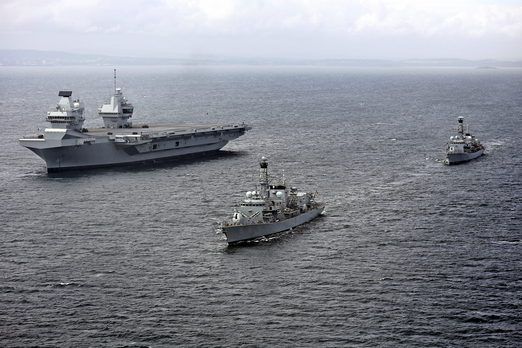 [Figure 1 ǀ The U.K. Royal Navy uses virtual training solutions to train operators to use equipment in the operations rooms of its new and legacy warships. Image courtesy U.K. Royal Navy.]
Unlike conventional one-size-fits-all basic training courses, virtual simulations can be readily customized to ensure readiness for a particular operational or training need. Simulation platforms equipped with the right technology enable instructors to modify challenges based on the trainees' experience levels and performance. Artificial intelligence (AI)-powered technology enables instructors to change scenarios, match terrain, civilian environments, battlefields, and weather conditions exactly to meet the operational need, and plan and work out counterattacks and defenses during ongoing conflicts.
With the right technology, groups in different militaries and locations can train together, and the entire platform scales to accommodate larger groups located in different areas of the world. AI can also measure your battle effectiveness, provide objective measures of professional competence, and determine whether units and individuals have the necessary skills.
Getting maximum benefit from virtual simulation
Live training poses its own challenges. Few military training areas are large enough to accommodate very large numbers of personnel, the latest weapon ranges, or have the capability to support drone operations. Changing (and uncontrollable) weather conditions are difficult to anticipate and can interfere with scheduled training. Done right, simulation can assist here by being blended into the live training. For example, soldiers on the ground can call in a virtual airstrike, even in bad weather, and watch the impact of the (virtual) bomb strike through customized optical devices.
However, even modern digital simulation systems often operate in separate, disconnected environments, leading to limited training scenarios and higher costs due to little design for reuse. Worse, most simulators lack the ability to combine training among the disparate military branches even though different branches regularly partner to conduct real-life missions.
Militaries are still working to solve challenges that represent obstacles to getting maximum value from virtual simulation technologies:
1. Fragmented training environments
There exists a lack of interoperability between different simulation systems, which impedes users' ability to transition between different scenarios seamlessly. When different branches use disparate systems, it becomes harder to coordinate joint operations and train jointly with air, land, sea, space, and cyber forces.
2. Challenges of generating terrain for simulation
All terrains are not created equal. And finding terrain similar to the actual mission location isn't always possible. Simulation platforms can create appropriate terrain and build multiple terrains for multiple runtimes – but only if the source data is accurate and readily available. Managing terrain distribution and necessary updates is time-­consuming and complex. Additionally, achieving runtime with dynamic terrain modification across multiple platforms is no small feat.
Synchronizing terrain data is a whole topic by itself. State-of-the-art terrain management tools enable faster synchronization and stronger collaboration.
3. Limited scalability and flexibility
Traditional simulation programs and platforms are limited in the number of trainees they can accommodate. Scaling training program capacity is logistically complex and expensive, as is storing, editing, or synchronizing data between each training session. Cumbersome simulation programs make it difficult to easily adapt training scenarios to address evolving threats and changing operational needs.
4. Storing and editing data
Modern simulated mission rehearsals sometimes involve 200 trainees or more. These large-scale exercises require large, bulky, and expensive hardware and backend systems. The U.S. Army, for example, has 76 Battle Simulation Centers across the globe. These warehouse-sized "battle labs" support hundreds of first-person shooter players at a time via desktop PCs. In addition, many centers house large-scale, augmented tank and aircraft simulators.
To use these complex facilities to their full potential, simple data storage, software management, and data editing and curation must be more convenient for the centers' teams of administrators.
5. High costs and resource requirements
The financial and administrative burden of maintaining and upgrading multiple simulation systems is high. These tasks make excessive demands on the training staff, and facilities in high use have very limited access time to undertake major maintenance and upgrades.
Introducing Project OdySSEy
BAE Systems' Project OdySSEy is an example where great strides have been taken to address some of the shortcomings of the military's use of virtual simulation by integrating game-changing technology and operational know-how from leading providers.
Project OdySSEy is a single synthetic environment (SSE) for collective military training developed by BAE Systems in collaboration with nine other companies, including Pitch, D3A Defence, Pauley, Hadean, Inzpire, VRAI, Plexsys, and Bohemia Interactive Simulations (BISim).
This SSE enables air, land, sea, space and cyber forces to plug in and train together. The project unifies diverse leading technology providers and subject matter experts (SMEs). It integrates BAE Systems' Typhoon fast jet simulators with a Joint Terminal Attack Controller (JTAC) simulator provided by D3A Defence, leverages Hadean's cloud technology for scalability, and harnesses VRAI's data analytics. BISim's VBS4 simulation platform ties it all together by functioning as the controller and integrating and collaborating with the technology the other companies provided.
Use cases
Project OdySSEy has multiple use cases, including Joint All Domain Operations battle scenario run-throughs.
Here's a hypothetical scenario: Several Marine and Air Force units need to rehearse for a mission and are relying on the simulation to test tactics. A ground platoon will require air support, so both ground and air troops will need the same "out of window" view and the same communication method. The JTAC links the ground and air units and also must "see" the same environmental experience. Special Forces and Combat Search and Rescue assets are in the mix. With less than 24-hour old satellite intelligence, the simulation mission terrain is highly accurate, as are the simulated enemy forces.
In effective training software, all components, such as various devices, platforms, and functionalities, must work together without days, or even hours, of technical preparation. This can be a barrier when there are differences in simulation technology and hardware between organizations. However, with collaboration like that exemplified by Project OdySSEy, these challenges are being resolved, helping teams deliver the true interoperability required by all military branches.
In our hypothetical simulation scenario above, Marine, Air Force, and JTAC personnel benefit from metaverse-level interoperability with platforms and devices using the same data sources and seeing the same picture, regardless of their training locations or the equipment and technology they're using. This level of compatibility highlights the potential of Project OdySSEy to address militaries' interoperability needs.
Challenges addressed by Project OdySSEy
Large-scale military training: Traditional real-world military training exercises are costly and logistically challenging when done at scale or across different locations. Project OdySSEy addresses this challenge by providing a metaverse for large-scale virtual military training. It enables hundreds or even thousands of soldiers, sailors, and airmen to train together on one ready-to-go platform, significantly reducing the financial and technical burdens associated with large scale, complex exercises.
Multi-domain training: Coordinating training across all the military domains (air, land, sea, space, and cyber) can be complex. Project OdySSEy simplifies this by supporting multi-domain training on one platform, enabling military units from different branches and specialties to collaborate seamlessly. This enhances coordination and the overall effectiveness of joint training scenarios.
Realistic terrain simulation: Replicating diverse geographical terrains at high-fidelity from all types of specialist data sources for mission training purposes is a significant challenge. Project OdySSEy overcomes this through BISim's Mantle ETM technology. Mantle ETM technologies enable dynamic terrain modifications for all system users (e.g., artillery and bomb craters, destroyed buildings), further enhancing the realism of training and mission rehearsal.
Advanced visualizations: Effective training relies on realistic battlefield visuals and shared situational awareness. Project OdySSEy integrates cutting-edge visualization technology from BISim, including 3D digital displays. Such technology enhances the training experience, enabling immersive and highly detailed battlefield visuals at different levels of command and control.
Addressing tomorrow's training needs today
In tackling these complex challenges, Project OdySSEy's true strength lies in the collaborative efforts of various technologies and SMEs, integrated by BAE Systems' pedigree in delivering military training to global forces over decades. By bringing together experts in simulation, supercomputing, data analytics, and augmented and virtual reality, Project OdySSEy is creating an SSE, enabling air, land, sea, space, and cyber forces to plug in and train together. Collaboration and fostering interoperability among diverse technologies, such as those contributing to Project OdySSEy, will continue to be a priority for military simulation companies committed to realizing the full, huge potential virtual simulation offers for military training and mission rehearsal.
Rusmat Ahmed is the SVP of Sales, EMEA, at Bohemia Interactive Simulations. As Project Director and Business Unit Director, he focuses on leading, winning, and delivering large contracts. He has extensive experience in complex contract negotiation including financing and TUPE [Transfer of Undertakings (Protection of Employment) in the U.K.] and has experience leading and building teams in multicompany environments.
Notes
1 https://www.wsj.com/articles/pentagon-puts-a-price-tag-on-military-exercises-1531310400
Bohemia Interactive Simulations (BISim) • https://bisimulations.com/