National Cyber Analyst Challenge won by Iowa State students
News
November 12, 2015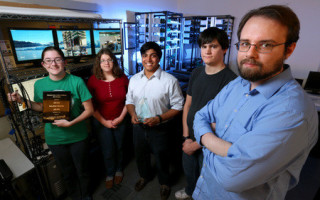 CRYSTAL CITY, Virginia. A team of students from Iowa State University won $25,000 first prize in the first National Cyber Analyst Challenge, a competition created by experts at Lockheed Martin and Temple University's Institute for Business and Information Technology (IBIT) to inspire university students to pursue cybersecurity careers.
The National Cyber Analyst Challenge focuses on developing strategic skills involving analysis and threat identification.
"Cyber security analysts represent a critical skills need for most organizations and these Iowa State students showed great promise through their hands-on teamwork to solve real-world challenges and progress through the competition," says Chris Kearns, Lockheed Martin vice president of Enterprise IT Solutions. "The lessons learned from the challenge will enable us to better support the academic community's cyber curriculums."
Nine schools -- Iowa State, Temple University, Carnegie Mellon University, University of Arizona, Howard University, Penn State University, University of Alabama Huntsville, University of Central Florida, and University of New Hampshire -- progressed on to Phase II in September. During the challenge, each school received an award of $7,500-$15,000 to support student, faculty, and curriculum development.
To compete in the final phase of the challenge on Nov. 6, in Washington, students had to finish an initial cyber analysis back in September. Instead of five hours, they had three weeks to comb through the massive amounts of data – about 75 gigabytes – and determine how an employee's computer was compromised. Although the students didn't know it at the time, the evidence collected during the first phase would come into play during the final challenge. During the final briefing, they were given more data files, including hundreds of employee emails, to analyze allin under five hours.
"There was so much more of the data we could be looking through, but at some point we had to start going off the leads that we had and focus in on the questions," says Matt Brown, team member and graduate student in information systems and computer engineering. "There were some rabbit holes that we could have gone down, but we realized we couldn't go too far down a trail or we were not going to finish."
"Companies that deal with these cyberattacks need to quickly figure out what happened and how they can at least temporarily fix it, so that they can get back to business as usual," said Steffanie Bisinger, team member and a senior in software engineering.
The winner was chosen by a panel of cyber industry experts and scored on technical proficiency, judgement, and communication. The three month, multi-phased competition began with each team analyzing a cyber case. In the second phase, the teams received training from cyber experts. The competition culminated in a real-time practical challenge held at the Lockheed Martin Global Vision Center in Crystal City, Virginia. The final event also featured speakers from the field including Maj. Richard Cruz from the Defense Information Systems Agency and Jim Connelly, the chief information security officer from Lockheed Martin.
Faculty advisers Jim Davis, an associate professor of information systems; Doug Jacobson, University Professor of electrical and computer engineering; and John Burnley, a lecturer of information systems, say the competition will give students a clear advantage with future employers.
"The students were given a very real scenario and an opportunity to practice their craft," Davis said. "This experience will make them standout from other prospective candidates."
- See more at: http://www.news.iastate.edu/news/2015/11/11/cyberanalysts#sthash.Ml5pBPiT.dpuf