Real-time Situational Awareness using AMP's Ultra Low Latency H.264 Video Streamer
Eletter Product
Ground Vehicle Situational Awareness
AMP's XStream-SD4, an Ultra Low Latency Stand-alone Video Streamer, is a key factor in situational awareness systems providing rugged, real-time video for intense intelligence gathering.
The rugged XStream-SD4, can be seen in ground vehicles providing 360 degree situational awareness sending imperative ultra low latency video. The XStream-SD4 helps improve the safety and security around large vehicles used in Defense.
The feature rich COTS XStream-SD4 is operating system neutral allowing for rapid integration and deployment in hours instead of months.
XStream-SD4 Highlights:
Ultra Low Latency w/ video latency below 40ms
4x PAL/NTSC/RS-170 video inputs
4 channels of audio encoding
Intelligent stand-alone device - no CPU or drivers
Extended Temperature available (-40 to +85deg C)
SWaP Optimized
Real-time Situational Awareness Diagram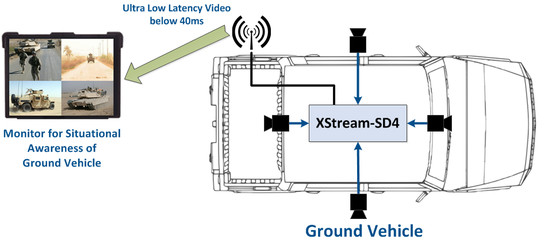 Click here to view the Technical Datasheet.
Advanced Micro Peripherals Inc.

149 Madison Avenue
Suite 1117
New York, NY 10016
Tel: +1 212 951 7205

[email protected]
Featured Companies
100 Church Street Suite 800
New York, NY 10007