Your Source for High-Reliability COTS RF Components. Shipped … Today!
Eletter Product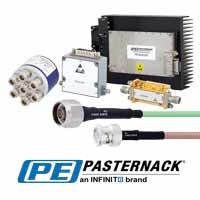 Pasternack offers the industry's largest selection of in-stock, ready-to-ship military-grade RF components and assemblies. Our highly-reliable, ruggedized COTS components are designed to meet a series of MIL-STD environmental test conditions. Ranging from DC to 220 GHz max. frequencies, our parts serve a wide range of MilAero applications: Test & Measurement, IFF, SATCOM, ECM, EW, UAV, Radar, and more.
Because our product is on the shelf, we can reliably meet your schedule and respond to all your urgent product requirements. Pasternack continues to provide users of RF, microwave, and mmWave components the broadest and deepest selection of products available for same-day shipment worldwide.
We are a business built on meeting your needs:
99.4% off-the-shelf availability
Same-day shipping available on more than 40,000 products across 107 categories of interconnect, passives, actives, and antennas
ISO 9001:2015 certified
Expert in-house technical support
Global distribution and support in more than 30 countries
Call or visit us at pasternack.com to learn more.
Office Headquarters: 17802 Fitch | Irvine | CA | 92614
Call Toll-Free: 866-PASTERNACK (866-727-8376) or +1-949-261-1920
Email: [email protected]