Billion dollar PAC-3 missile contract won by Lockheed Martin
News
December 28, 2016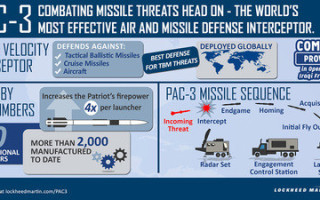 DALLAS. Lockheed Martin won a $1.45 billion contract to produce and deliver Patriot Advanced Capability-3 (PAC-3) and PAC-3 Missile Segment Enhancement (PAC-3 MSE) interceptors to U.S. and allied military forces as they upgrade their missile defense capabilities.
The PAC-3 MSE missile makes use of a two-pulse solid rocket motor that increases altitude as well as range to meet evolving threats.
The contract calls for PAC-3 and PAC-3 MSE missile deliveries for the U.S. Army, and Foreign Military Sales of PAC-3 interceptors, launcher modification kits, associated equipment and spares for the Republic of Korea, Qatar, the Kingdom of Saudi Arabia, Taiwan, and the United Arab Emirates (UAE).
The PAC-3 Missile is a high-velocity interceptor that protects against incoming threats, such as tactical ballistic missiles, cruise missiles, and aircraft. The interceptor currently deploys missile defense capabilities for six nations – the U.S., the Netherlands, Germany, Japan, the UAE, and Taiwan. Kuwait also is under contract to procure PAC-3 missiles.
For more information, visit Lockheed Martin's PAC-3 and PAC-3 MSE web pages.