VICTORY prevails
Story
October 02, 2014
An industry perspective from Curtiss-Wright Defense Solutions
The U.S. Army's VICTORY initiative has come into its own. Today's combat vehicles are typically deployed with multiple independent systems that have limited ability to share their functionalities or data. To address and mitigate this problem, the VICTORY (Vehicular Integration for C4ISR/EW Interoperability) initiative was kicked off in 2010 to encourage the use of size, weight, power, and cost (SWaP-C)-optimized commercial off-the-shelf (COTS) open-architecture subsystems and Ethernet-based in-vehicle data-sharing services. The promise of VICTORY is that its wide adoption will help to increase interoperability, enable the elimination of redundant functionality and hardware, and ultimately reduce vehicle acquisition and upgrade costs. From our perspective, the VICTORY standard has passed the "tipping point," and has now become a de facto requirement, becoming a common line item in many requests for proposal issued today by the Department of Defense (DoD) and system integrators. Government Program Executive Offices (PEOs) are now commonly stipulating VICTORY as a requirement for upgrades.
From Curtiss-Wright's perspective, VICTORY is prevailing as the DoD's mandated approach for eliminating "stovepiped" system functionality and increasing interoperability. Today, work on the standard continues apace, and VICTORY 1.6.1, the latest version of the specification, was recently released. The standard has undergone a number of iterations and seen numerous implementations since it was first announced. VICTORY has also undergone significant maturation and seen numerous implementations since the first deployable version of the specification (1.0) was released in July 2011. As a result, the market is now seeing VICTORY-compliant equipment at work. To further the standard's acceptance and to verify interoperability, several VICTORY System-Integration Labs (SILs) have been established across the U.S. and are currently testing VICTORY components to analyze how well they work together.
From the COTS vendor side, suppliers are now better able to respond to the growing requirements for VICTORY with compliant products. Helping to speed the development of compliant COTS solutions is the recent "fine-tuning" of the required minimum function set that defines a workable VICTORY architecture. The initial version of the specification defined 54 VICTORY component types that provide a variety of functional elements, such as direction of travel, time services, and shared storage. By increasing its focus on core in-vehicle networking requirements, the government was able to identify a subset of 17 core components needed to implement a useful VICTORY architecture. This decision has enabled COTS vendors to focus on these essential required services. Additional component sets beyond the core 17 can be added based on the usage profile of a particular vehicle.
In today's budget climate, with fewer new platform designs getting started, these VICTORY solutions are well-positioned for use in enhancement upgrade packages to help reduce the number of boxes that are needed to add capabilities into a particular ground vehicle. VICTORY also helps combat obsolescence, since its core architecture fosters interoperability and provides an upgrade path that speeds and eases the addition of new capabilities to vehicles in the future.
Figure 1: The Digital Beachhead from Curtiss-Wright combines an Ethernet switch with a vehicle-management computer to provide VICTORY network services in ground vehicles.
(Click graphic to zoom by 1.9x)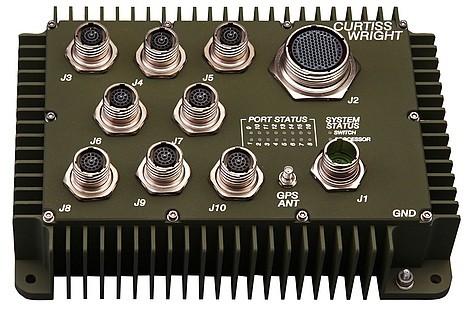 In September 2012, Curtiss-Wright introduced the Digital Beachhead 16-port Gigabit Ethernet (GbE) Network Switch combined with a tightly integrated Vehicle Management Computer (see Figure 1). This product is a low-cost rugged ground vehicle "appliance" for modernizing ground vehicles to comply with the VICTORY standard. Since its debut it has generated significant interest in the ground vehicle community, multiple U.S. Army SILs, and other government contractors for evaluation. Recognizing the rapidly proliferating demand for certified VICTORY-compliant solutions in program requirements, the company has expanded VICTORY validation testing for select existing and new products across its family of rugged line-replaceable modules (LRMs) and line-replaceable units (LRUs), including network switches and routers, and computing resources. Curtiss-Wright has also developed a range of derivative products in different form factors, including VICTORY-compliant 3U OpenVPX-based Ethernet switch module and other compact, low-weight rugged LRU-based network switches.
The news is that VICTORY is now at hand. Its ascendance enables government program managers and system integrators to better achieve their goals of cost-effectiveness, especially in this time of sequestration and cost-cutting. Instead of viewing each separate vehicle LRU as a discrete function, VICTORY encourages designers to look at the overarching system architecture. That's when the benefits of VICTORY become readily apparent – it enables LRU consolidation and information sharing like never before.
Aaron Frank Product Marketing Manager, COTS Switching/Routing, Intel SBC
Curtiss-Wright Defense Solutions
www.cwcdefense.com