Dept. of the Navy declares Joint Standoff Weapon at full operational capability
News
October 12, 2017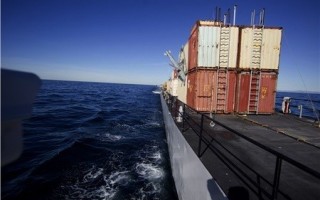 NAVAL AIR SYSTEMS COMMAND, PATUXENT RIVER, Md. The Department of the Navy recently declared the Joint Standoff Weapon (JSOW) C-1 ready for full operational capability.
JSOW C-1 is the Navy's first air-to-ground network-enabled weapon capable of attacking stationary land and moving maritime targets. All U.S. squadrons are now outfitted with the JSOW C-1.
JSOW is a family of low-cost, air-to-ground weapons that use an integrated GPS-inertial navigation system and terminal imaging infrared seeker. It also uses the two-way Strike Common Weapon Datalink, which newly enables a moving maritime target capability.
"Formal declaration of full operational capability for JSOW C-1 is the final step in a phased approach to introducing this weapon and its capabilities to the fleet," said Cmdr. Sam Messer, JSOW deputy program manager. "It is the culmination of a complete team effort to deliver not only the hardware, but the training, tactics development, and support infrastructure to ensure we field a meaningful warfighting capability."