ARINC 429 to Discrete Signal Converter
Eletter Product
From Aerospace Optics, manufacturer of the best-in-class VIVISUN® line of pushbutton switches comes the new NEXSYS ARINC 429 to Discrete Signal Converter (SR429). ARINC Signal Converters bridge the gap between the digital data bus and the myriad of equipment driven by a discrete electrical signal. The SR429 is designed to provide up to 23 discrete outputs from a single data label. With full DO-160 and equivalent MIL-SPEC standards compliance, this flight-worthy converter is manufactured without DO-178 and DO-264 requirements. This unique interface solution contains no software, firmware or programmable logic. The SR429 is ideally suited to support the ADS-B mandate and can be used in any application requiring an ARINC 429 to discrete interface. For maximum flexibility, the SR429 is available as either a factory preset unit or as a universal (user configurable) unit. View the datasheet.
NEXSYS is the newest brand from Aerospace Optics. The NEXSYS brand is focused on providing avionic system interface solutions, and includes the versatile LOGIC Module that offers over 1,000,000 combinations of mix-and-match avionics integration electronic components. The entire Aerospace Optics product line, including NEXSYS and VIVISUN, are manufactured in the United States, supported by the company's demonstrated commitment to high reliability, unparalleled customer service, and on-time delivery.
For more information, please call us at 1-888-848-4786 or visit us online at nexsysavionics.com.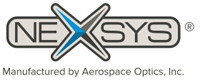 Aerospace Optics, Inc.
3201 Sandy Lane
Fort Worth, Texas 76112
1-888-848-4786