WEBCAST: Boeing, Army discuss FACE alignment for Army avionics on December 10 at 2 pm est
News
November 24, 2020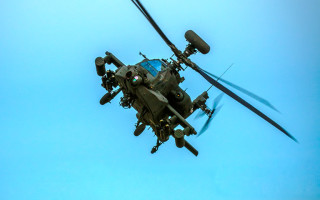 SCOTTSDALE, Arizona. Boeing, in partnership with the U.S. Army, AdaCore, CoreAVI, Presagis, and Real-Time Innovations (RTI), will demonstrate an integrated Future airborne Capability Environment (FACE) commercial-off-the-shelf (COTS) solution stack covering cockpit displays, graphics systems and data transport connectivity. This stack enables high mission capability using the world's latest and most advanced avionics technologies designed to accelerate RTCA DO-178C DAL A safety certification and FACE conformance. The webcast, "Accelerating Avionics Design & Testing through FACE Conformance: An Integrated Model by Boeing, U.S. Army & Aerospace Leaders," will cover the stack and take place December 10, 2020, at 2 pm est. The presenters are Marc Moody, Technical Fellow, Boeing; Christopher Edwards, Systems Engineering Lead, U.S. Army Combat Capabilities Development Command (DEVCOM); Chip Downing, Senior Market Development Director, Aerospace & Defense, RTI; Dr. Benjamin Brosgol, Senior Technical Staff, AdaCore; Michael Pyne, Director, Strategic Accounts & Solutions Architect, CoreAVI; and Matt Jackson, Technical Product Manager, PRESAGIS.
To register click here.
The webcast will show how a FACE Technical Standard Edition 2.1 aligned avionics Flight Deck that is integrated with the following technologies: Boeing Geospatial Embedded Mapping Software (GEMS), Boeing User Experience (UX) Flight Deck framework, US Army CCDC AvMC Crew Mission Systems (CMS) User Applications / UoPs, AdaCore's GNAT Pro Ada Development Environment, CoreAVI Vulkan-based Graphics and Compute Drivers and temperature-screened AMD E9171 GPU,PRESAGIS' ARINC-661 Cockpit Display System, and RTI FACE conformant Transport Services Segment (TSS) based upon RTI Connext DDS.
Moderating the presentation will be John McHale, Group Editorial Director for Military Embedded Systems.
The webcast is sponsored by AdaCore, Boeing, CoreAVI, U.S. Army DEVCOM, PRESAGIS, and Real-Time Innovations. It is hosted by Military Embedded Systems online and OpenSystems Media.
For more information on the webcast, click here.