Raytheon and Northrop Grumman sign teaming agreement to develop air-breathing hypersonic weapons
News
June 24, 2019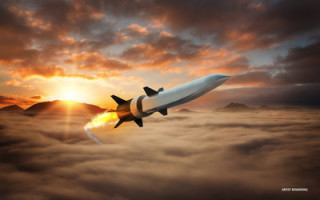 WALTHAM, Mass. FALLS CHURCH, Va. Raytheon Company and Northrop Grumman Corporation have signed a teaming agreement to develop, produce, and integrate Northrop Grumman's scramjet combustors to power Raytheon's air-breathing hypersonic weapons.
Scramjet engines use high vehicle speed to forcibly compress incoming air before combustion to enable sustained flight at hypersonic speeds. Such speeds reduce flight times and increase weapon survivability, effectiveness, and flexibility.
Northrop Grumman and Raytheon are working under a $200 million Hypersonic Air-breathing Weapon Concept (HAWC) program contract to deliver an affordable, effective, and producible cruise missile for the Defense Advanced Research Projects Agency and the U.S. Air Force.
Under the agreement — announced at the recent Paris Air Show — Raytheon and Northrop Grumman will continue to collaborate on HAWC and future air-breathing hypersonic missiles. Both companies are investing in hypersonic technologies and programs to ensure the military is well equipped for defense.