COBALT 901 / 400 Series with RSSD Drive Bay
Eletter Product

With Intel® Quad Core™ processor via COM Express® Type 6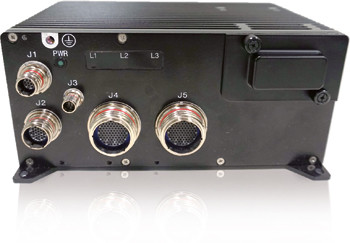 The COBALT 901 | 400 is Kontron's next-generation of rugged mission computer. Based on Kontron's hardened Type 6 COMe module, ruggedized-compact carrier board, tightly coupled mezzanine options and System Interface Board (SIB), supporting up to 2 RSSDs via front removable drive bay in a IP67 enclosure to survive rigorous environmental conditions and use.
The highly scalable COBALT™ product family is based on the COMe Type 6 module form factor (Type 6) with a specialized carrier board assembly.
The 400 series introduces the Quad-Core E3-1505L (Skylake) processor for a significant boost in processing with the same, low power of the original 100 series. The compact footprint, power-to-performance optimization, and ease of customization make it the ideal solution for applications requiring high performance, reduced size-weight-power in an environmentally ruggedized platform. The design flexibility ensures fast time-to-market for many applications in the following segments: military, avionics, commercial avionics, mining, smart grid, homeland security, transportation (rail), and oil & gas.
Small Form Factor 8.5" (216mm) x 5.6" (142mm) x 3.9" (99mm)
Intel® Quad Core™ E3-1505L (Skylake) 2.0 GHz processor via COM Express® Type 6 with up to 32 GB of DRAM
Supports up to 2 RSSDs via front removable drive bay
Rugged, IP67 Environmentally Sealed System
USB 3.0/2.0, GbE, HDMI, VGA, Audio, GPIO, Serial ports
Extended Temperature -40°C to +71°C
COBALT™ 901 | 400 Series with MIL-STD-1553 or CANBus also available
No ITAR restrictions